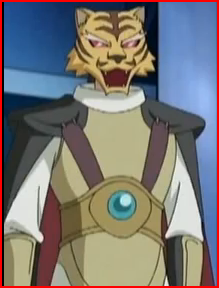 The Masked Warrior

Race

Rai's mother

Occupation

Train Rai (and try to keep identity a secret)

Gender

Female

Family

Rai (son), Luva (husband), dolls (stepchildren)

Allies

Chasers, Komorka, Luka (season 3), Phoebe
The
Masked Tigeroid
, also known as the 
Masked Warrior aka Rai's mother
, is a mysterious warrior who bears a tiger mask to cover her face, and, unlike the title of this page, is likely a
Dragonoid
. She claims to know everything about
Rai
, and his ultimate weakness. She's also just as powerful with Tai Chi cards, she demonstrated a good amount of skill when battling against
Luka
.
Tai Chi Cards
Edit
Already Had
Edit
Riu / Flow
Jun / Notify
Po / Foam
Sae - Increase (gave to Rai)
Given (to Rai)
Edit
Gok / Discover
Whoo / Wings
Byun/Army
Sae / Increase
Species Speculations
Edit
Uses a Tigeroid Activator
If Lord Gherba proves to be her husband, then why would the Emporer's assistant be a Tigeroid?
Dragonoid
Edit
Very powerful underwater compared to most Tigeroids.
There could be a second reason she wears a mask - she might be hiding her scales.
Luka recognizes her.
She uses the Light card; the opposite of the Darkness card, a Tigeroid card.
The Dragonoids think she is a guy.
She seems to know everything about the Lufdrake.
She is suspected to be Rai's mom.
She told Rai to go to the Land of the Spirits and talk to the Spirit King.
Despite the name of this page, she might be a Dragonoid.
In the show, she has been called "You", "that Mystery Warrior", "the [or that] Masked Warrior", and, only once (unless she is who practically everyone thinks she is), "Mom".