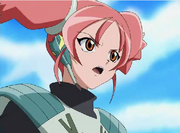 Terra is a member of the
Dragonoid Assault Squad
. She is now a doll.
Appearance
Edit
Terra has pink hair which she wears in ponytails. She wears an outfit similer to the other Dragonoid Assault Squad member's outfits.
Personality
Edit
Like Sena said her personality is annoying. She seems to have a major crush on Luka and thinks that both he and Jakada are dreamy.
Terra was the first member of the Assaualt Squad to be named