Gum is a tai chi card, representing a sword.
Appearance
Edit
It is a glowing sword.
Episode 2: The Chase is On!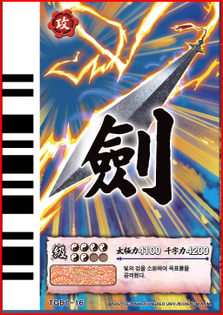 Geom allows the user to summon a golden glowing sword to use against his enemies when using weapons. The sword, however, can only stay around temporarily, and can lose its force.
Ad blocker interference detected!
Wikia is a free-to-use site that makes money from advertising. We have a modified experience for viewers using ad blockers

Wikia is not accessible if you've made further modifications. Remove the custom ad blocker rule(s) and the page will load as expected.