Garnia
was a
Dragonoid
warrior. His main enemy is
Tori
. He died in
episode 24
, saving
Jahara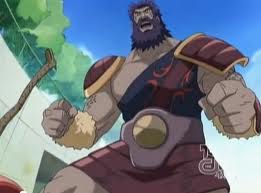 .
Tai Chi Cards
Edit
Already Had
Edit
Temporary
Edit
He likes to pick on Tigeroids.
He wields a large hammer.
Tori likes him slightly.
He is the only one who was that was not put in a trap or severely punished by Meeska. However, Meeska did leave him as bait for the Tigeroids.
He is very humerous, and cares about cheering people up, just like Tori( As seen in Episode 22 when he attempts to cheer up Luka).
He is loyal to the emperor even when he and Mishka left him in the Luftdrake as bait.
He gave himself up to save Jahara from Yun, the hideous character.
He is the only character so far to actually die.
if you wanna see a video, go to file:///C:/Users/zaki.shamelapaul-PC.000/Downloads/Garnia%20laughing%20like%20a%20retard.mp4
Ad blocker interference detected!
Wikia is a free-to-use site that makes money from advertising. We have a modified experience for viewers using ad blockers

Wikia is not accessible if you've made further modifications. Remove the custom ad blocker rule(s) and the page will load as expected.