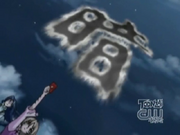 Am is a Tai Chi symbol, representing darkness. It's owner is Sena.
Episode 1 : An Amazing Discovery
Am can be used to cloak darkness in the air. According to when it was used in Episode 1, the lasting effect is temporary, and will clear eventually after a few seconds or so. It seems to be a very useful card when it comes to getting away (as demonstrated in Episode 1) or attacking someone, while they are blinded by the thick black fog.
"Cloak the ship!" (An Amazing Discovery)